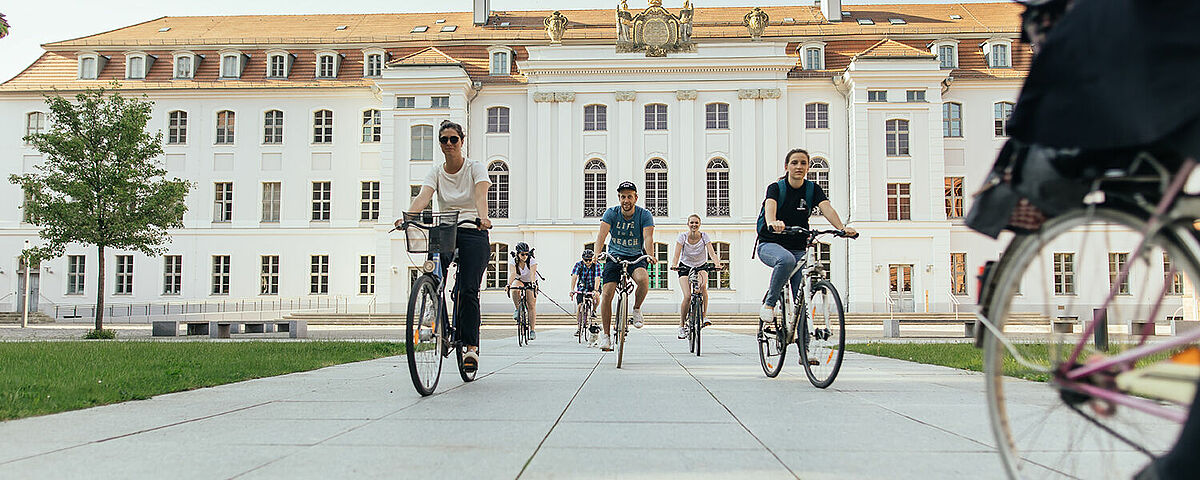 Erasmus+ & University Exchanges
If you are interested in coming to the University of Greifswald as an exchange student, this page will provide you with information about the requirements, the application process, studying in Greifswald and tips for preparing your stay in Greifswald.
You can contact the International Office's members of staff at any time. Feel free to contact us with any questions ranging from enrolment, to health insurance, visas and life in Greifswald.
Requirements
Exchange students can study in Greifswald for either one or two semesters. There are no study fees for studying in Greifswald, but you will have to pay a semester fee.
Please contact the International Office at your home university first. If there is a partnership agreement between the universities, please take note of the following:
- Language requirements
All subjects require German language proficiency of at least B1 level. Language Certificates from the online plattform OLS will not be accepted.
Exceptions:
Medicine: German language proficiency of at least B2 level;
English and American Studies: English language proficiency of at least B2 level, German language skills are recommended
- Information on exchanges for students studying medicine
Applications can only be made for the second part of the degree (first clinical year = fifth semester). Furthermore, applications are only possible for a start in winter semester and for a full year.
1) Nomination
First of all, your home university has to nominate you to us. Nominations must be made via email by the 15 May (winter semester) or the 15 November (summer semester). Once you have been nominated, the process continues as follows. We will also send you all of this information via email.
2) Online Application
After you have been nominated, you apply online to the University of Greifswald. To do so, you will need to register on the online application portal. Please note: Does not work in Internet Explorer!
This is where you will find the corresponding online forms for programme students. Once you have filled in and submitted the form, your application for a study place is complete. Scans of the following documents must be included in your online application:
Passport photo
Proof of language proficiency
Please take note of the respective application deadlines:
31 May for a period of stay starting in winter semester (1 October to 31 March)
30 November for a period of stay starting in summer semester (1 April to 30 September).
3) Submission of Learning Agreement & Transcript of Records
After you have been admitted, you will need to arrange your study plan. Information about the course timetable and the Learning Agreement can be found here. The deadlines for submission via email are:
31 August (for winter semester or full academic year)
28 February (for summer semester)
Medicine: 1 August (for winter semester or full academic year), 1 February (for summer semester)