Competition "Weltoffene Universität" (Cosmopolitan University)
Following a suggestion from the Senate in early summer, the University held a design competition with the theme, "cosmopolitan university". All of the University's and University Medicine's members were asked to interpret a passage of the University's Mission Statement:
"The University invites people of all origins and convictions to take part in academic education, to work together to enhance knowledge and to train proficiency in all areas of human life and social existence. This means that the University, its members as researchers, teaching staff and students, are expected to stand up for a free, civil and democratic society and to advocate the peaceful coexistence of humans and nations. "
Rector, Prof. Johanna Eleonore Weber, underlined the importance of the competition. Modern academia is not possible without internationality and cosmopolitanism. "Academia is international and cosmopolitan. Innovations and new discoveries thrive in fruitful worldwide exchange which is fed by various cultures and perspectives. With our competition, we underline our mission to be a cosmopolitan university at a time in which cosmopolitanism and tolerance have to be defended as basic values."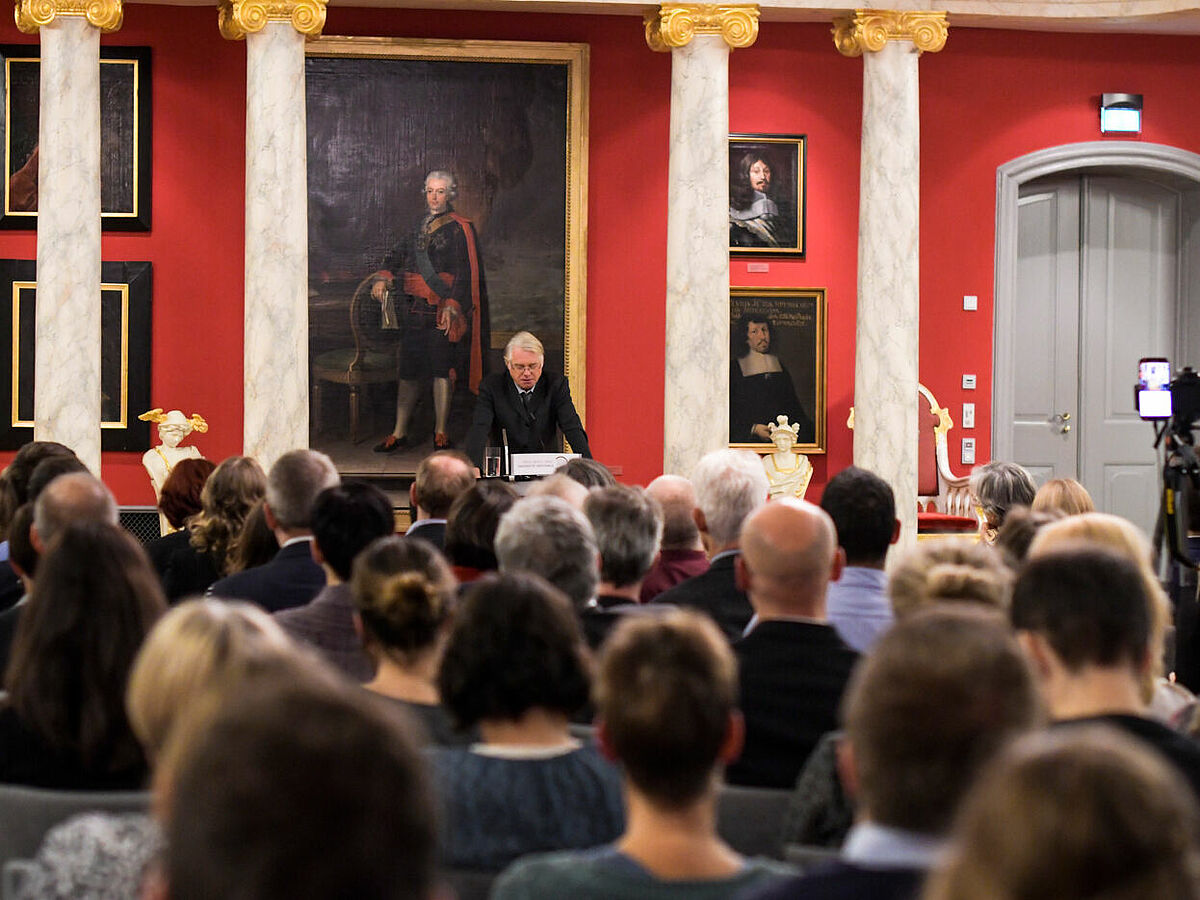 The winners of the design competition "Weltoffene Universität", which was open to all members of the University, were congratulated and received their prizes on the 16th November 2016. Prof. Dr. Hubertus Buchstein, Chair of Political Theory and the History of Political Ideas, held a lecture with the title "Cosmopolitanism in the World of Today". In his lecture, Prof. Buchstein described the historical development of the term "cosmopolitanism". He stressed that cosmopolitanism of today primarily means mutual interest and mutual respect. "Cosmopolitanism does not just mean to expect others to adapt completely to us and our understanding of language and culture. Being truly cosmopolitan means approaching others with an intrigued attitude and finding a joint basic consensus for a respectful treatment of one another."
The prize-giving took place in the courtyard of the Historical Campus after the lecture. The prizewinners' and other submitted contributions were then presented in a light and video installation with live music.
The jury awarded the prizes to the society GrIStuF for a video, to Slata Kozakova for a text contribution and to Mohammed Tarek Shamia, who submitted a photo documentation.
The 1st Prize Was Awarded to the Greifswald International Students Festival (GrIStuF)
The GrIStuF e. V. has set itself the goal of enriching the student culture in Greifswald. Every other year, the honorary members of the society organise the Greifswald International Students Festival, which gives the society its name, and which welcomes 150 participants from all over the world. Over the course of one week, the participants discussed developmental and sociocultural topics. During 2016's festival, fitting in well with the festival motto "SEA: The Future", the music video "sEa:MOTION" was created, in which the international participants express their associations to the sea in 21 languages. It is a wonderful reflection of the international community during the festival week.
The 2nd Prize Was Awarded to Slata Kozakova
Slata Kozakova was born in 1992 in St. Petersburg (Russia). She came to Germany with her parents when she was four years old. Ms. Kozakova was brought up bilingually and, after finishing her Abitur in Schwerin, studied Slavonic and German Studies at the University of Greifswald and graduated with a Master's degree in 2016 in Comparative Literature Studies. She now aspires to gain a doctorate and would like to continue her work in research as a literary scholar and in literature as an author. The prizewinner writes poems, short prose and short plays in German and Russian in which she tackles topics such as multilingualism, speechlessness, (failed) behavioural norms and expectations. She uses her submitted text "Oxymoron" to discuss the unequivocal connection between the terms "university" and "cosmopolitanism".
The 3rd Prize Was Awarded to Mohammed Tarek Shamia and Bertram Schiel
Mohammed Tarek Shamia was born in 1985 in Aleppo (Syria). After studying human medicine at the University of Aleppo, he started his training to become an ophthalmologist. In 2015 he fled Aleppo, together with his brother. They managed to flee across the Mediterranean Sea in a small rubber boat with 50 people on board. He now lives in a refugee centre near to Demmin and has been taking part in a German language course at the University of Greifswald for seven months. After a period of work shadowing at University Medicine, he will work there as an ophthalmologist. His childhood home in Aleppo was destroyed just a few days ago in an air raid. Using five photos, the prizewinner documented his dangerous escape from Syria and his arrival in Greifswald.