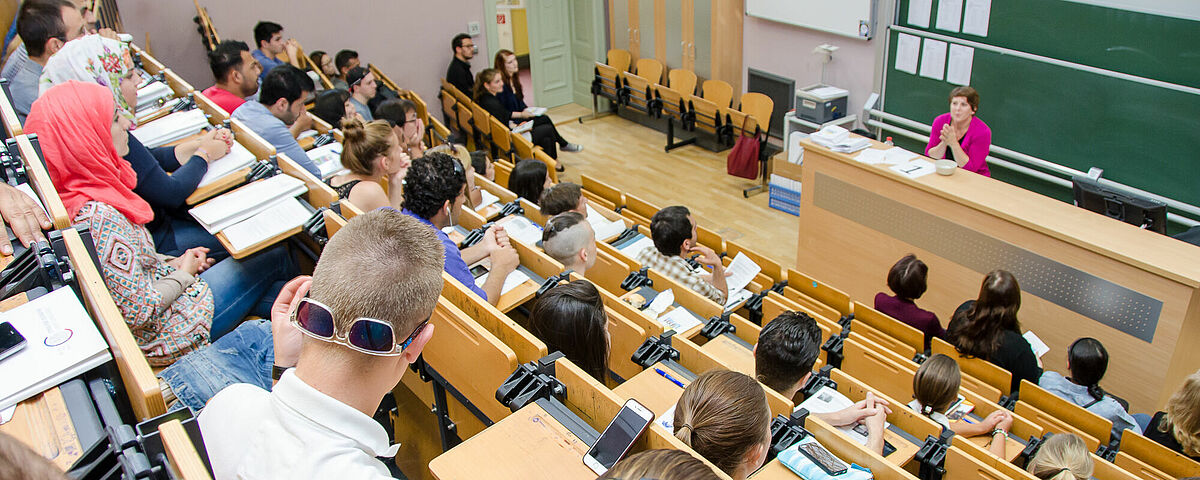 Asylum Seekers Can Attend Lectures as Guest Students for Free
The University of Greifswald has opened its lecture halls and invites asylum seekers to get to know the University as guest students. Those interested can further their knowledge and attend certain classes. Attending courses as a guest student is significantly different to regular studies. The most important differences are:
Guest students cannot take any exams and are thus unable to gain any qualifications. However, upon request, the University will be happy to issue a confirmation of course attendance.
Guest students cannot apply for student loans (BAföG).
Attending classes as a guest student shall have no effect on a later application for a regular study place.
The result of the asylum seeking procedure is not influenced in anyway by studying as a guest student.
Courses on Offer
Generally, you can choose any course from the entire range of courses provided by the University of Greifswald. Exceptions: Medicine, Dentistry and Psychology. It is not possible to take part in these courses as a guest student.
Requirements
Asylum seekers can apply for a study place as a guest student if they are of full legal age, in possession of a (temporary) residence permit in Greifswald or the surrounding region, and interested in studying in Greifswald.
The majority of classes in Greifswald take place in German. Those interested should therefore have basic knowledge of the German language (no proof required).
Asylum seekers do not have to pay anything as a guest student if they can prove possession of a (temporary) residence permit on application.
The student ID card for guest students provides access to the library's services.
Enrolment
Guest students enrol at the Students' Registration Office. To enrol, simply submit the completed application for guest students [de]. Guest students require permission to attend the classes from the member of teaching staff prior to attending classes. Therefore, please contact the relevant members of staff. The up-to-date lecture timetable can be found on the self-service portal.
The International Office and Students' Registration Office will be happy to answer any questions you might have.