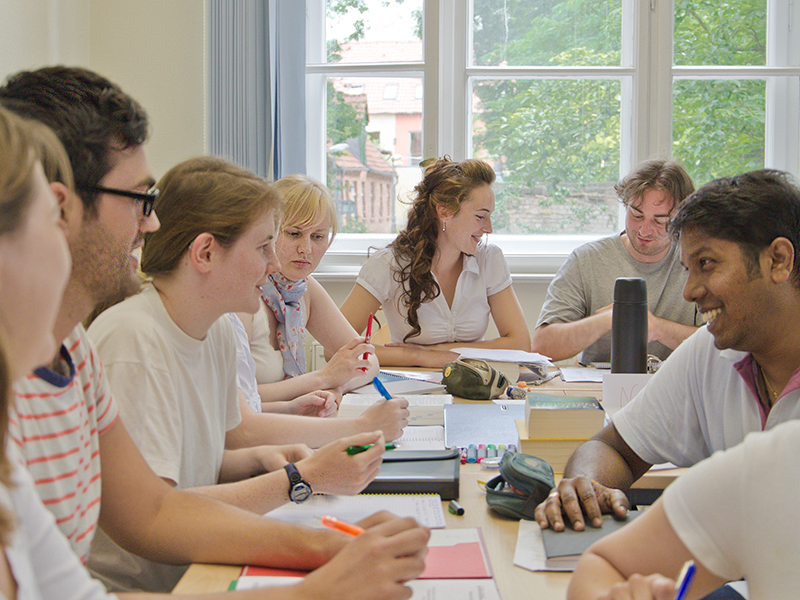 Welcome to the Graduate Academy at the University of Greifswald
The Graduate Academy at the University of Greifswald supports junior researchers across the various phases of their doctoral research and postdoctoral phases and also prepares them for academic and non-academic careers by offering a specific qualification programme.
We take part in:
Travel Allowances for Doctoral Candidates and Postdocs
Following a suggestion made by the Internationalisation Council, the Rectorate has created a procedure to grant travel allowances for early-career researchers to foster participation at national and international conferences. Funds worth € 20.000 will be available annually. Deadline: 8 weeks prior to departure; requests should be submitted via email.
University of Greifswald Honoured by the European Commission for Very Good Working Conditions for Research
By awarding the quality seal "HR Excellence in Research", the European Commission has honoured the University of Greifswald's attempts to offer researchers good working conditions and a stimulating work environment. By making this award, the Commission confirms that the University fulfils international standards when it comes to the recruitment procedure, working conditions and social security, as well as the training of young researchers. These standards have been set out in the European Charta for Researchers and the Code of Conduct for the recruitment of researchers. more...
Older News
First Reception for International Visiting Academics
The Rector of the University of Greifswald, Professor Weber, cordially invites you to the first Reception for International Visiting Academics on Tuesday, 12th December 2017.
The event will take place from 6.00 p.m. onwards in the University Main Building, Domstraße 11, Entrance 2.
Professor Weber will open the event by giving a welcome speech in the historical Aula. This will be followed by insights into current research projects, held in English by two researchers:
Dr. Caroline Schöner with 'Of bats and carnivorous pitcher plants: stabilisation of an animal-plant mutualism' and Dr. Sébastian Puechmaille with 'Tracking down the emergence and spread of fungal diseases'.
You will then have the chance to meet and chat with other international researchers and representatives from the faculties and Greifswald's independent research institutes.
Please let us know if you can make it, by sending an email to welcome(at)uni-greifswald(dot)de until 4th December 2017.
Please provide the following information: Surname, first name(s), nationality, institute/department, institution and your status (doctoral student, postdoc, postdoctoral fellow, professor).
The University's Family Service will provide childcare for the duration of the Reception. When registering for the event, please let us know if you will be in need of childcare.
Invitation
Meet other international researchers and their partners on
Friday, 8h December 2017 at 19:00.
We will meet in front of the Braugasthaus "Fritz" and visit the Christmas Market in Greifswald together!
A registration is not necessary, just come by!
Please be on time so that we don't have to wait for too long.
From 20:00 we'll be in the "Fritz" as always.
Any questions should be directed to Mrs. Imme Burkart-Jürgens at the Welcome Centre Greifswald
Academic Career Day
for Future Doctoral Students, Doctoral Students and Postdocs at the University of Greifswald
8th November 2017 at Alfried Krupp Wissenschaftskolleg (Institute of Advanced Studies) Greifswald
Topics and key subjects of the workshops, presentations and forums:
How can I communicate my research successfully

?

How can I finance my research (doctorate and Co.)?

The path from finding a topic to writing a dissertation

Academic careers and alternative career models outside of academia
Also, poster exhibition "Academia and Freedom" (in cooperation with CDFI)
Rowing Regatta: University of Greifswald vs. PUM Szczecin
This year's rowing regatta will take place on 12 October at 3.00 pm at the Museumshafen Greifswald. The universities of Greifswald and Szczecin meet up annually for a friendly competition between their respective rowing eights, the venue alternating between Germany and Poland. Both teams are very much looking forward to your support!
day trip to the 33rd deGUT in Berlin
in association with the Technology Centre Vorpommern (TZV), the Centre for Research Suppport and Transfer (ZFF) is organizing a day trip to the 33rd deGUT in Berlin.
deGUT is the largest trade fair for start-ups and entrepreneurship in Germany. To learn more about the aims of deGUT and about this year's events please look at the English language flyer. Detailed information about the programme and which events will be in English can be found at degut.de.
On the 13th October a free bus will bring people taking part in the excursion to Berlin. If you would like to visit the deGUT with us, please contact Stefan Moeser to reserve your place:
Stefan Moeser
Tel: +49 3834 420 1240
stefan.moeser(at)uni-greifswald(dot)de
Scholarships & Prizes
Most students, doctoral students and postdocs are aware of how important scholarships and fellowships of any kind are for their own research work. We often receive information about funding possibilities or competitions via email and we would now like to share this knowledge with our members and all those interested.
We would be very grateful for any further information about any other competitions and would add these to our list.
Further Information on funding possibilities can be obtained from the Research Support Centre.
Conferences
Networking is becoming more and more important for the academic world and thus it's important to take part in conferences and symposiums. These are the only events at which you will find such a high concentration of expert knowledge.

Please notify us about upcoming conferences, we will add these to our list.
2nd World Cogress on Undergraduate Research
Building on the success of the 1st World Congress on Undergraduate Research in Doha (Qatar, November 2016), the 2nd World Congress on Undergraduate Research will take place at Carl von Ossietzky University Oldenburg from 23rd to 25th of May 2019. more...