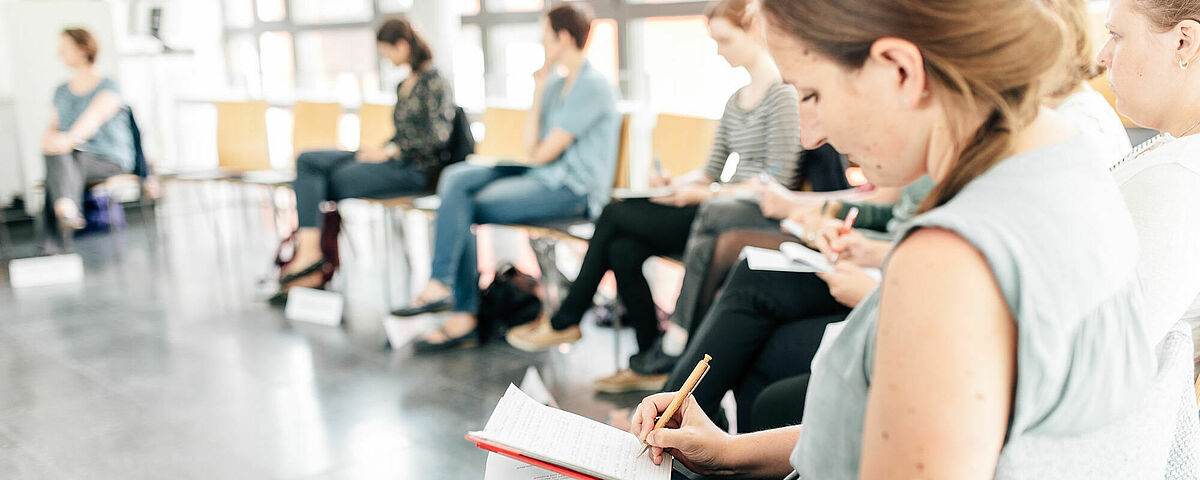 Further Education and Continuing Professional Development for Staff Members at Foreign Institutions
The Staff Mobility for Training Programme (STT) makes it possible for members of staff at the University of Greifswald to participate in training courses at an Erasmus+ partner university or external institution.
Please note: Contact the International Office directly if you would like to do your stay in Russia or Vietnam.
Objective
Take part in continuing professional development courses or gain an insight into various parts of university life by visiting administrative units, faculties, library systems or computer centres. Or: Pave the way for new partnerships.
Your Advantages
Visit as part of a predetermined programme
Exchange of experience in your area of expertise and new perspectives
Strengthening of your own and intercultural skills
Extension and consolidation of networks
Wide Range of Possibilities
Staff Training Week
Staff training weeks take place at universities and are usually based around specific subject areas or administrative tasks. The advantages of staff training weeks are that they are based around a set programme, the university you are visiting is prepared for visitors at that time and it is easy to get to know additional contacts. Find your place on a staff week via iMOTION.
Work Shadowing
Work shadowing makes it possible for you to get to know your own field of work at another university. This can include visits to e.g. administrative units, faculties, library systems or computer centres. Organise your own stay at a guest university and obtain advice from the Erasmus+ Office.
You can also find inspiration in this report from a former participant [de]
Language Courses
Improve your language skills by participating in intensive language courses abroad. These courses are usually provided by external institutions. You will find a large number of companies online.
Tip: You can enhance your English language skills by attending one of the Language Centre's language courses for administrative staff. Participation in the course takes place during your work hours and is free. You can register for the course via the self-service portal [de].
Visits to Initiate New Partnerships
A foreign university would be an ideal Erasmus partner for your subject area and could improve collaboration? If negotiations are only advancing gradually, it can often make sense to visit the institution. The impressions gained can be passed on to students or other staff members and such visits also make it possible to promote the University. If you are planning new partnerships, please make sure to discuss your plans with the Erasmus+ subject coordinator in your subject area.
Requirements
The duration of the stay must have a minimum of two days and a maximum of two months (excluding time required for travel). The grant is only made for a maximum of ten work days due to the amount of available funds.
Persons belonging to the following departments/areas can receive funding (examples):
General & technical administration
Library
Subject areas
Faculties
Finances
International Office
Public relations
Academic counselling and course enquiries
Technology & transfer
Further education
Funding
The grant amount is composed of a daily rate and a travel expenses allowance.
Daily Rates
| Receiving country | Förderhöhe (pro Tag) |
| --- | --- |
| Denmark, Finland, Ireland, Iceland, Liechtenstein, Luxembourg, Norway, Sweden, United Kingdom | 180 Euro |
| Belgium, France, Greece, Italy, Malta, Netherlands, Austria, Portugal, Spain, Cyprus | 160 Euro |
| Bulgaria, Estonia, Croatia, Latvia, Lithuania, Poland, Romania, Serbia, Slovakia, Slovenia, North Macedonia, Czech Republic, Turkey, Hungary | 140 Euro |
Travel Expenses
The travel expenses are calculated according to the actual distances between the departure and arrival destinations of the visit using a distance calculator that applies to the whole EU.
10 km – 99 km 20 euros
100 km – 499 km 180 euros
500 km – 1,999 km 275 euros
2,000 km – 2,999 km 360 euros
3,000 km – 3,999 km 530 euros
4,000 km – 7,999 km 820 euros
8,000 km and above 1,500 euros
Please note: days that are used for leisure activities (e.g. weekends without work) in the receiving country shall receive no funding. Only days that are actually used for work can receive funding.
The University of Greifswald reserves the right to reduce the length of funding compared to the length of stay, depending on the amount of available funds. This means that the duration of the visit does not always match the duration of funding!
If the actual costs exceed the maximum grant amount, the additional costs must be financed by the participants!
Application Procedure and Time Frame
Application Deadline:
Send your informal request to erasmusuni-greifswaldde at least four weeks prior to the start of your planned trip.
The following documents are required when submitting requests for funding:
During your Stay Abroad
You have to have the Letter of Confirmation that has been issued to you by the International Office signed by your receiving institution and submit the letter to the International Office (original) on return.
After your Stay Abroad
Participation in the EU Survey: After your stay, you will receive an invitation to take the survey from: replies-will-be-discarded@ec.europa.eu. Please also check your spam folder.
Please note: If we have not received a Letter of Confirmation after your period of stay abroad, or if you fail to participate in the survey, you will be required to pay back the grant.
International Office
Nadine Voigt
Domstraße 58a
Erdgeschoss
17489 Greifswald
Tel.: +49 3834 420 1115
erasmusuni-greifswaldde