The UniBigBand is a jazz orchestra with enthusiastic hobby musicians, most of them are students and teachers at the University of Greifswald. They play together under the direction of Sarah Wolff.
The band's repertoire is noted for its diverse range of music. The band enthrals its audiences with a captivating mixture of swing, soul and cool jazz. The UniBigBand performs at balls and at town, village or street festivals, at social events during conferences and symposiums and at other events. Look forward to a unique concert from Greifswald's UniBigBand.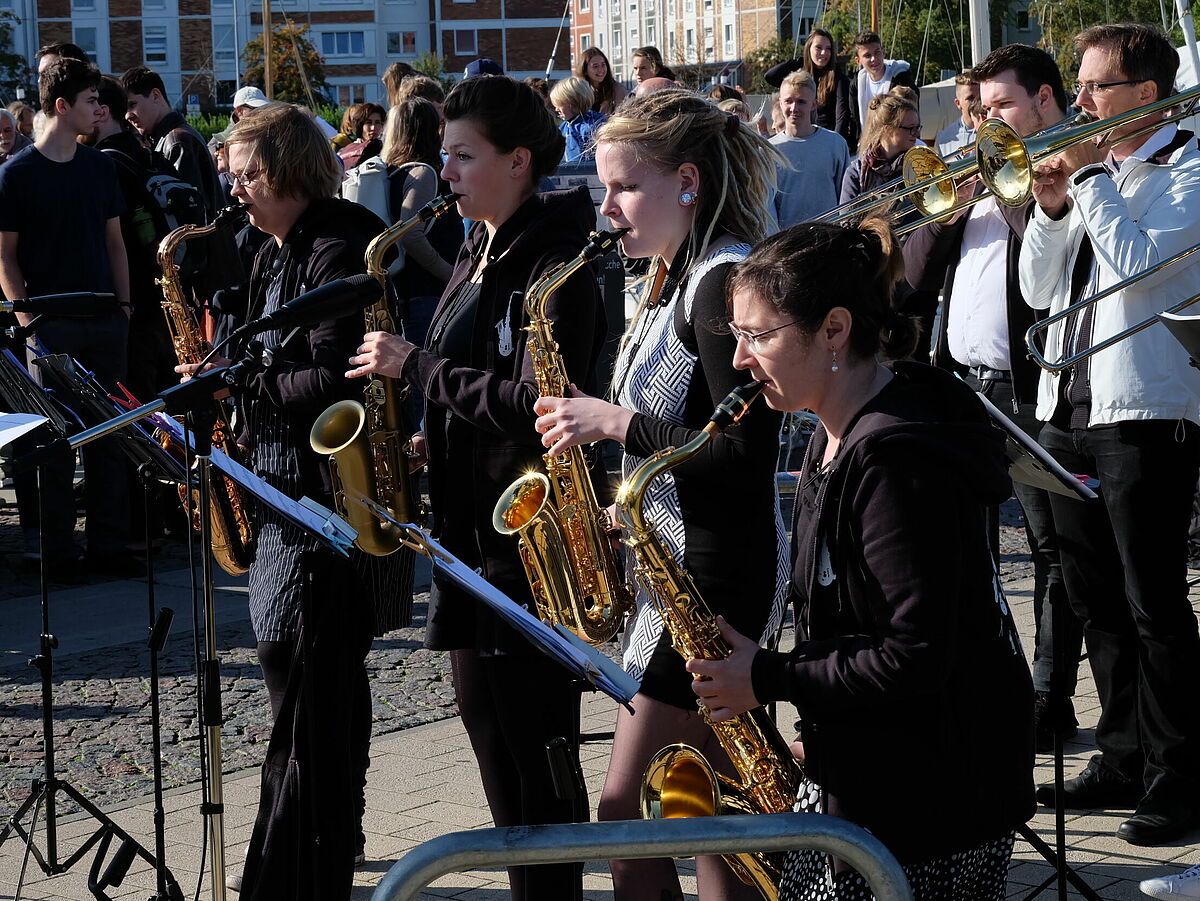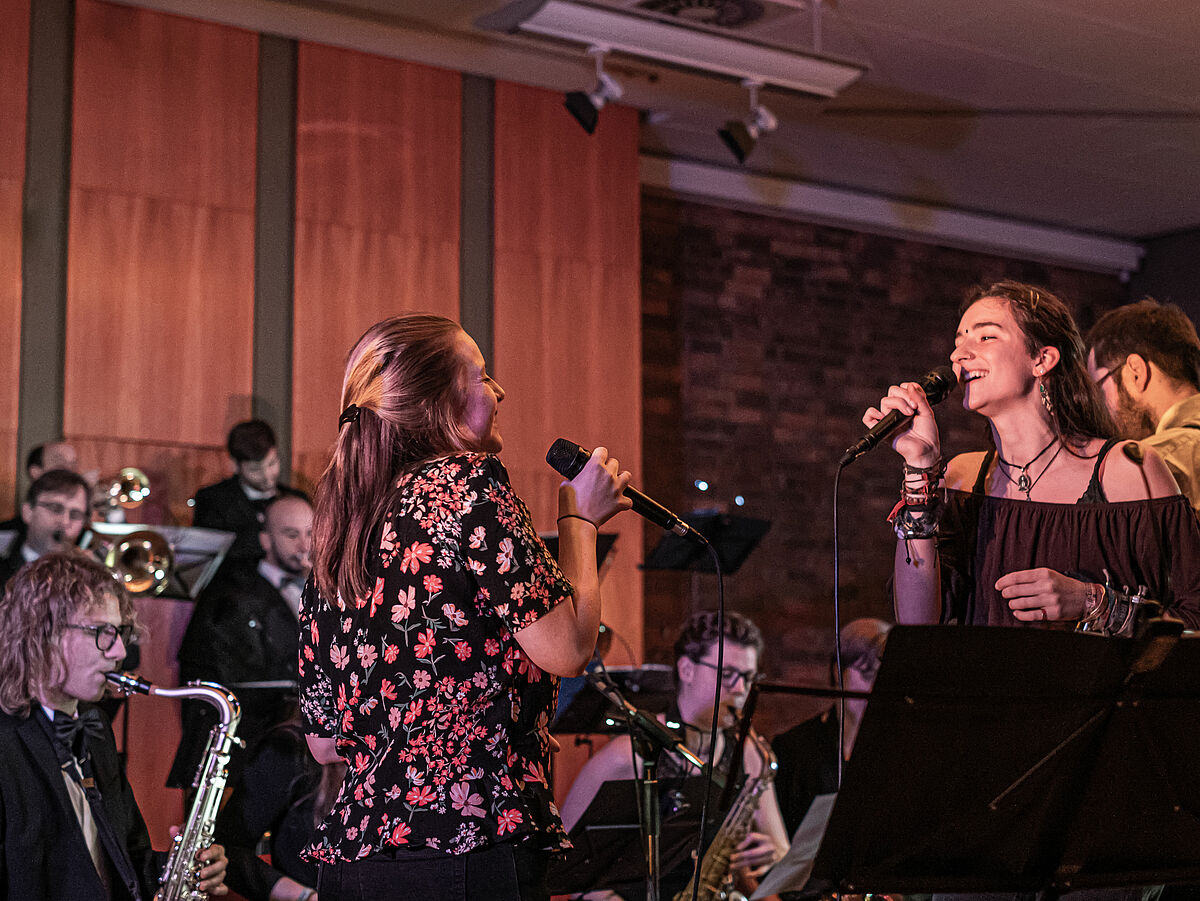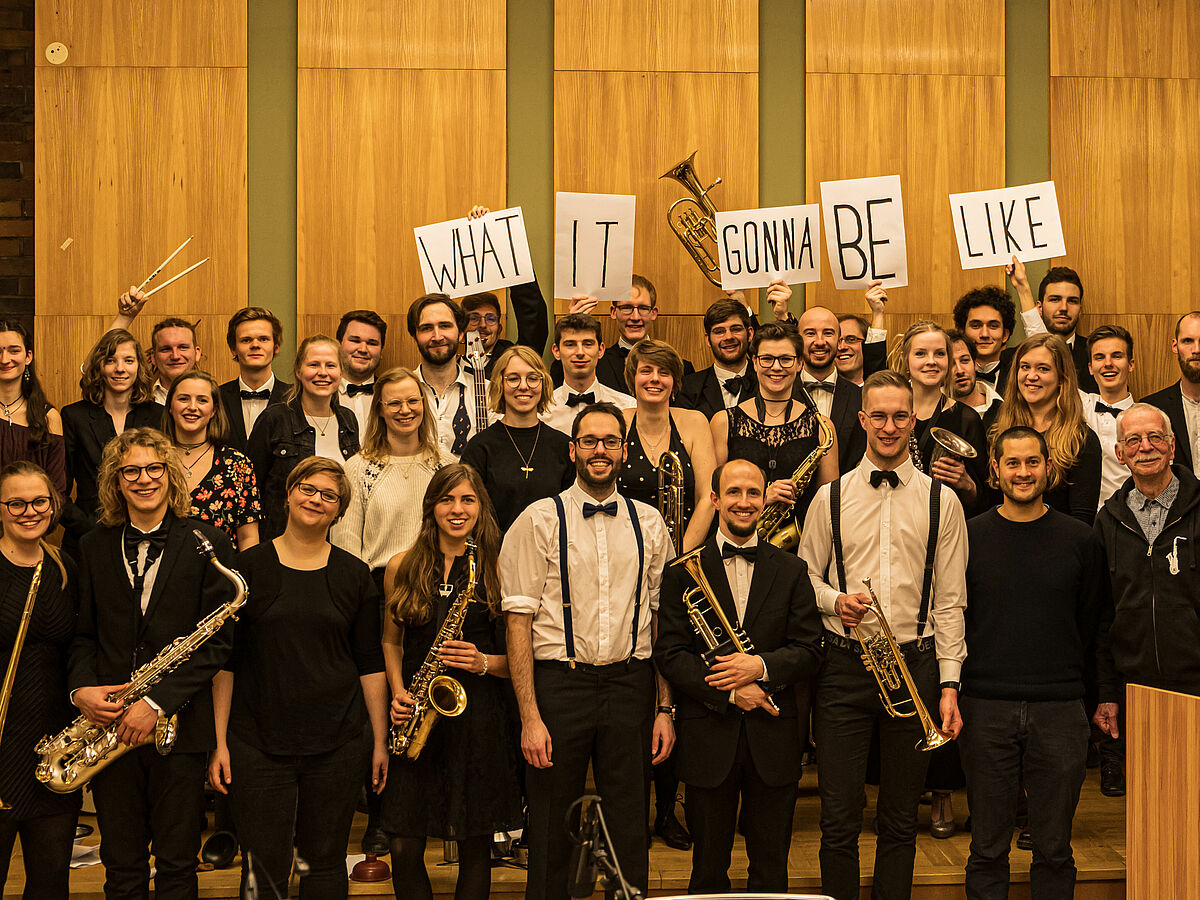 ---
Contact
If you are interested in our music, you would like to join the band or you want to hire us for a concert – or even if you have any suggestions or criticism for us – you can contact us at:
Band-Info
unibigbandhgw@gmx.de
Bandleader: Sarah Wolff
sarah.wolffuni-greifswaldde
We are also on facebook and instagram!
Band Members
Conductor: Sarah Wolff
Vocals: Rieke
Saxophone: Fiona und Johanna (1. alto saxophone), Sophie (2. alto saxophone), Linus (1. tenor saxophone), Miriam (2. tenor saxophone)
Trombone: Claudia, Håkan, Daniel, Marvin, Jonas
Trumpet: Alex, Erik, Max, Bjarne, Thea
Rhythym: Thomas and Rolf (drums),
Dominik and Peter (piano),
Isabell, Caro and Frederik (guitar),
Jano and Leo (bass guitar)
Rehearsals
During the teaching period, we rehearse on Tuesdays at 8.00 p.m. at the Department of Sacred Music and Musicology (Domstraße 20a).
---
Repertoire
Repertoire
Current titles: Think, Murphy's Gesetz, Lil' Darling, Shiny Stockings, Allamode, Nice and Easy, Backrow Politics, Mas que Nada, Tuxedo Junction, Critic's Choice, Little Sunflower, Topsy, Libertango, Malaguena, Swing Machine, Straighten Up and Fly Right, Respect, Watermelon Man, Blue Midnight, Just a Minor Thing, Critical Mass
Additional titles we can perform: Bistro Latino, Switch in Time, Caravan, Blue Skies, The Girl from Ipanema, Best of Basie, All Night Rain, It Don't Mean a Thing, In the Mood, Moanin', Summertime, Hay Burner, Birdland, On Broadway, Children of Sanchez, Senorita Fajita, Super Sized
Vocal titles: Feeling Good, Straighten up and fly right, Big Time, Fly Me to the Moon, Mack the Knife, Valerie, Every Day, I Wish, Fever, Respect, Attitude Dance
We have played
14. September 2019, 9.30 a.m., Greifswald's Museum Harbour
26. January 2019, 5.00 p.m., Cafeteria (Mensa) Schießwall
29. June 2018 Concert 4.30 p.m. Fischmarkt
21. June 2018 Fête de la Musique, 5.00 p.m. Fischmarkt
13. January 2018, 5.00 p.m. – End-of-Semester Concert, Cafeteria (Mensa) Schießwall
4. November 2017, Medizinerball – Town Hall
22. June 2017 University Family Festival, 4.00 p.m., Bahnhofstraße 2/3 (IBZ Felix Hausdorff)
21. June 2017 Fête de la Musique, 4.45 p.m. Fischmarkt
29. January 2017 End-of-Semester Concert: 4.30 p.m. Cafeteria (Mensa) Schießwall
26. January 2016 Public rehearsal Musikfabrik Mühlenstraße, 7.30 p.m.
16. January 2016, 6.00 p.m. Gig at the Cinestar (Hall 3)
27.11.–29.11.2015 Rehearsal weekend in Wismar
21. June 2015 Fête de la Musique
2. June 2015, 7.00 p.m.: International Day – University Main Building
18. January 2015 End-of-Semester Concert, 6.30 p.m. Lutherhof
17. January 2015 Erasmus Scholarship Ball, Theater-Café
31. January 2014 End-of-Semester Concert, 8.00 p.m. Lutherhof with special guests Lege & Lena: Pop-Jazz
14. Dec. 2013 Erasmus Scholarship Ball
13. Dec. 2013 Gig BDH-Klinik Greifswald (Christmas party)
29. June 2013 End-of-Semester Concert
21. June 2013 Fête de la Musique, 5.00 p.m. Stage at the Mühlentor
10. til 12. May Band Workshop in Wismar
26. April 2013 Student Days Concert; 8.00 p.m. at the Geo-Keller
29. January 2013 End-of-Semester Concert, old E-Werk Marienstraße 8.30 p.m.
15. December 2012 ERASMUS Winterball
23.11.–25.11. 2012 Rehearsal weekend at the Musikfabrik
1. November 2012 Lege & Lena at St. Spiritus, 7.30 p.m.
21. January 2012 International Ball (ERASMUS) Hotel Mercure