The Medal of Honour of the Univesity of Greifswald
According to the Basic Regulations of the University, the Medal of Honour can be awarded by the Rectorate, on agreement with the Reduced Senate, to individuals who have provided great services for the University of Greifswald.
The founder of the University of Greifswald, Heinrich Rubenow, is pictured on the front of the medal. The historical University Main Building is pictured on the back.
Medal of Honour for Johann Friedrich (Fritz) Theodor Müller (1822-1897)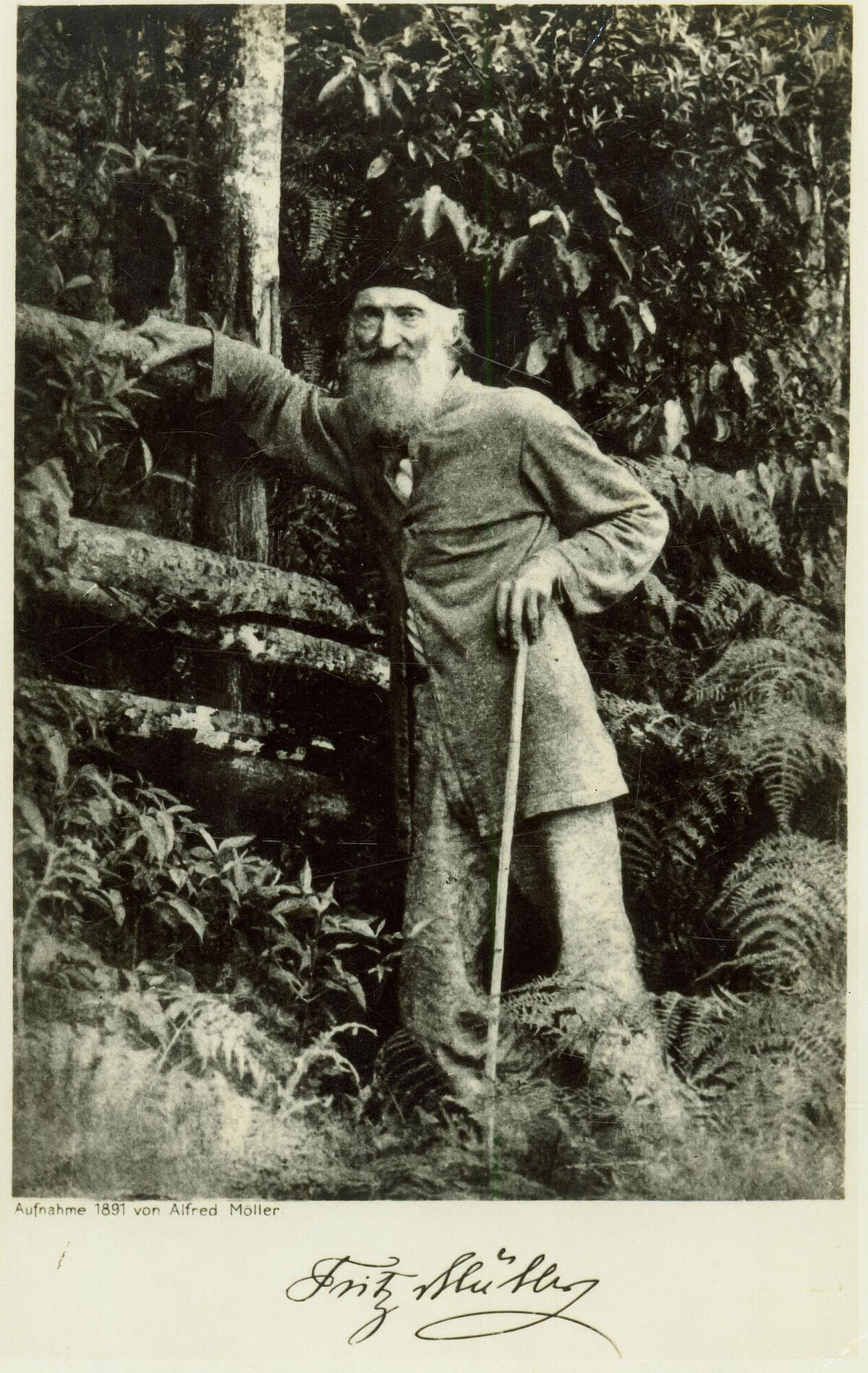 The University's Senate approved the posthumous award of the University's Medal of Honour to Johann Friedrich (Fritz) Theodor Müller (1822-1897) on 21 December 2022.
Johann Friedrich (Fritz) Theodor Müller was born in Windischholzhausen on 31 March 1822 and died in Blumenau (Brazil) on 21 May 1897. He studied natural sciences and mathematics in Berlin, with two semesters (1842-1843) in Greifswald. He received his doctorate (Dr.phil.) in Berlin in 1844 with a thesis on "De Hirudinibus circa Berolinum hucusque observatis" ("On the Leeches of Berlin and its Surroundings"). He went on to study medicine in Greifswald from 1845 to 1849. On 21 October 1848, he asked the University of Greifswald's Faculty of Medicine to waive the religious form of the doctoral oath ("sicut deus me adjuvet et sacrosanctum ejus evangelium") and to permit him to say a "simple pledge in lieu of an oath" instead. This request was rejected.
In 1852 he emigrated to Blumenau in Brazil. There he carried out research and published over 250 scientific papers. Fritz Müller spent most of his time researching the flora and fauna at his own accord. He discovered and described the phenomenon by which several unrelated animal species with chemical and/or mechanical protection mechanisms against predation, indicate this by means of mimicking same honest warning signals. This phenomenon is known as the "Müllerian mimicry", but is better described as the "norming of signals".
He also discovered and described special food bodies produced by certain myrmecophytes for the accommodated ants. These "Müllerian bodies" are named after him. He was a vehement supporter of Darwin's Theory of Evolution from early on. Fritz Müller was probably the first person to suggest that an organism's individual development (ontogeny) can provide clues for formulating hypotheses on the course of its phylogeny (Müller 1864). His explanations inspired Ernst Haeckel to formulate his "Biogenetic Law".
Fritz Müller's stepbrother Christian Gustav Wilhelm Müller performed research together with Fritz Müller in Brazil from 1883 to 1884, he completed his habilitation in Greifswald, where he became Professor of Zoology in 1895.
The University Honours Dr. Ekkehard Lohmann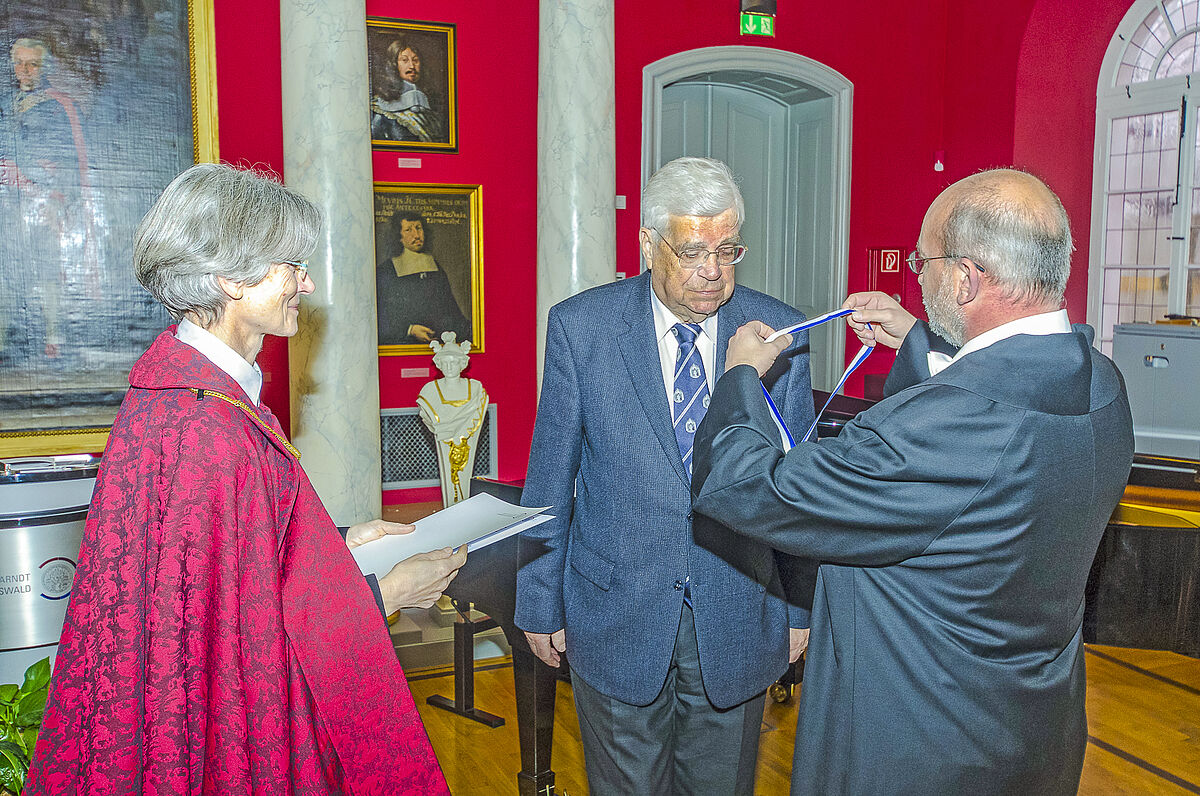 The last Medal of Honour was awarded to Dr. Ekkehard Lohmann in 2014, during the award ceremony for the academic titles. He was honoured for his services towards the University. Thanks to his commitment and persistence he managed to realise the last will of Agnes Lohmann, who died in 1991, which was to promote science and research at our university. In order to achieve this, he founded the Agnes Lohmann Foundation, which he chaired for a long time. In addition to this, Dr. Lohmann had donated substantial sums to the University prior to establishing the foundation.
Since being established, the Agnes Lohmann Foundation has supported Greifswald's University Library with an annual amount of € 30,000, which is mainly used to support the digitisation measures. This led, for example, to the acquisition of a book scanning robot, with which a large number of books has already been scanned for e-reserves. Since 2011, the foundation has also supported the University Library with the establishment of the state portal "Digital Library of Mecklenburg-Vorpommern". This development has made the University Library a national pioneer in the linkage of digitised material from archives, museums, libraries and scientific collections. In 2016, the Agnes Lohmann Foundation financed the digitisation of 140,000 newspaper pages.