Käthe Kluth Junior Research Programme
The Käthe Kluth Junior Research Group aims to actively support you in the postdoctoral phase of your research work, helping you to increase the visibility of your research achievements and develop your academic careers. The programme will help to further develop your profile as an outstanding early-career researcher. You will conduct an independent research programme, which will also serve as the basis for a habilitation or equivalent achievement. You will be able to increase your publication performance in terms of quality and quantity and apply for high-profile project funding during the funding period.
Furthermore, you will open up the opportunity for a doctoral student to write a thesis in close cooperation with you as head of the junior research group. At the same time, you gain leadership experience and expand your research.
---
---
Käthe Kluth
Käthe Kluth (1899-1985) studied English, German and History in Stralsund and Rostock and obtained her PhD at the University of Greifswald in 1927. Between 1930 and 1946 she worked as a teacher at the secondary school in Pasewalk. During the following six years (1946-1952), Kluth worked as a lecturer and language teacher for English at the University of Greifswald, where she played a decisive role in the establishment of the Department of British and North American Studies. In 1952 she became the first female professor at the Alma Mater with a teaching contract for English Studies at the Faculty of Arts and Humanities. From 1956 on, she was head of the Department of English. Three years later, she received a professorship with a full teaching contract. Prof. Dr. Käthe Kluth was appointed emeritus professor in 1962.
Award winner 2022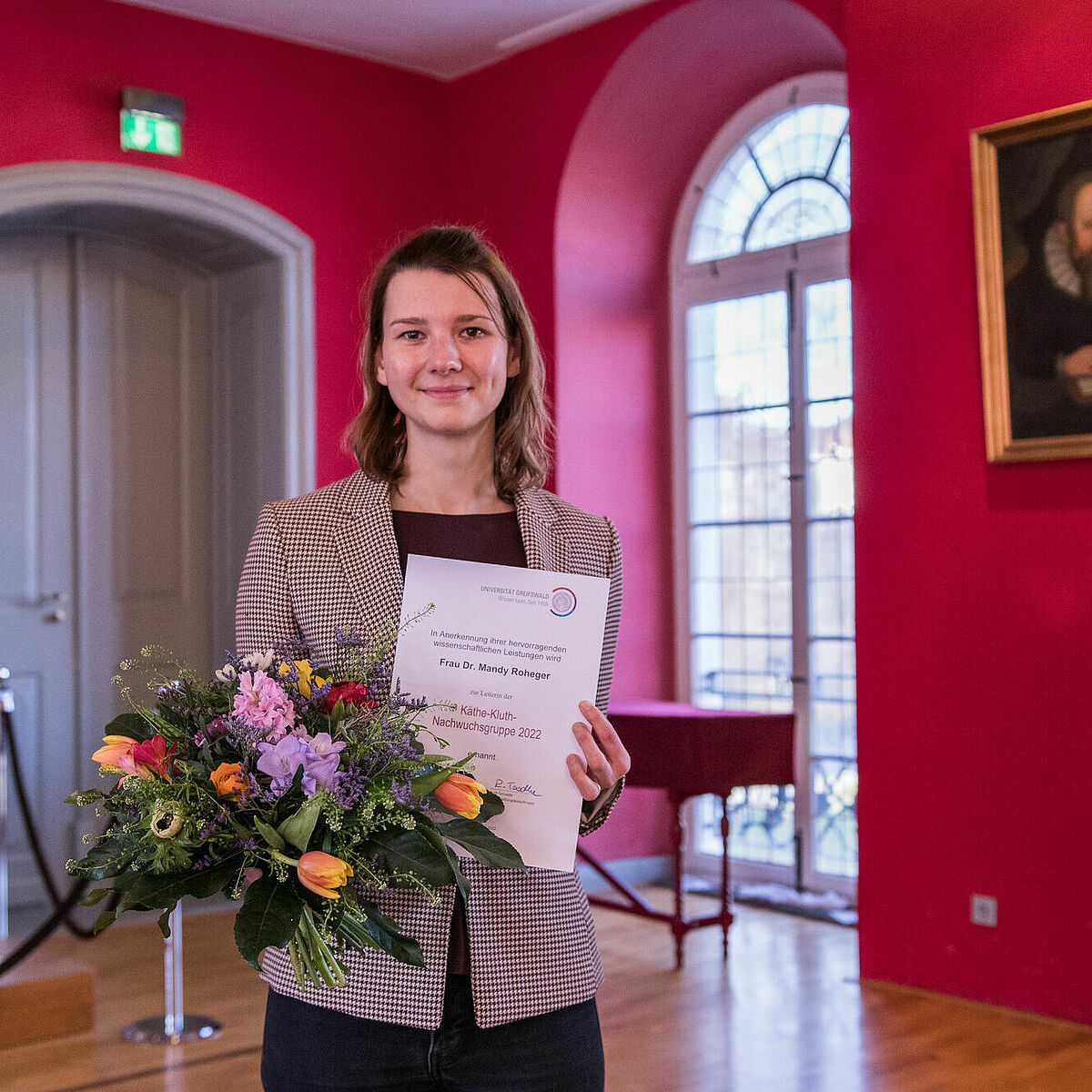 Dr. Mandy Roheger successfully proposed her research concept for a Käthe Kluth Junior Research Group with the title "Soziale Kognition bei subjektiven und leichten kognitiven Beeinträchtigungen" (Social Cognition in Subjective and Mild Cognitive Impairments). "My research interest lies in age-related changes of social cognition. We define social cognition as all the skills that allow us to understand the feelings, perspectives and thoughts of other people. As part of the Käthe Kluth Junior Research Group, I would now like to study the changes in social cognition that occur in the healthy and pathological ageing process and how we can prevent a decline in these functions. The long-term goal is then to develop intervention studies to counteract this decline. This research is of utmost relevance for improving the quality of life of those affected and thus relieve the burden on the health system through targeted preventive measures," says Dr. Mandy Roheger.
Former award winners
2020: JProf. Dr. Paula Prenzel, Geography and Geology Greifswald
2019: Dr. Rieke Trimcev, Political Science Greifswald
2017: Dr. Susanne Sievers, Microbiology Greifswald
2015: Dr. rer. nat. Antje Vogelgesang, University Medicine Greifswald [de]
2014: Prof. Dr. Christiane Pané-Farré, since May 2019 Professor of Clinical Psychology at the University of Marburg [de]
2013: Dr. Cristina de la Vega Leinert, Geography Greifswald [de]
2012: PD. Dr. Ekaterina Poljakova, Philosophy Greifswald [de]
2012: Prof. Dr. Klavdia Smola, since 2018 Professor of Slavic Literatures and Cultures at TU Dresden
2011: Dr. rer. med. Nele Friedrich, Biomathematics/University Medicine Greifswald [de]
2011: Prof. Dr. Kerstin Knopf, Since 2015 Professor of Postcolonial Literary and Cultural Studies at the University of Bremen [de]
2011: PD Dr. med. habil. Pia Menges, University Medicine Greifswald [de]
2010: PD Dr. Tanja Pfeiffer, Botany Greifswald
2010: Dr. Nicola Neumann, Psychology Göttingen [de]
2010: Prof. Chiara Piazzesi, since 2013 Professor of Sociology at the University of Québec [fr]
2008: Prof. Dr.rer. nat. habil. Haike Antelmann, since 2015 Professor of Microbiology at FU Berlin
2007: PD Dr. rer. nat. Heike Kahlert, Chemistry Greifswald