Complaints Handling Procedure
In its mission statement, the University of Greifswald commits itself to the provision of good working conditions for members of staff and students. In addition to supplying suitable resources, this also includes an open-minded work atmosphere with cooperative colleagues, high levels of individual responsibility and appropriate levels of involvement. The aim is to maintain and strengthen simple and direct communication between the various members of the University.
Conflicts still occur at an institution with almost 11,000 members. In such cases, it is important that you are able to approach competent members of staff with your problems and issues
We have introduced this structured complaints and conflict handling procedure to provide you with support for your issues and help you develop constructive solutions to your problems.
---
Current news
The University's first conflict counsellors and mediators have successfully completed their training and are now available to advise you. The certificates were handed over in a ceremony on 17 April 2023 and the new premises of the Office for Complaints and Conflict Handling at Domstraße 58 A were inaugurated. There you can find the office of the coordinator Katharina Ruffer and the contact person for protection against discrimination as well as a room for confidential talks. More information on the development of the project "Expanded Complaint and Conflict Handling" can be found at the end of this page.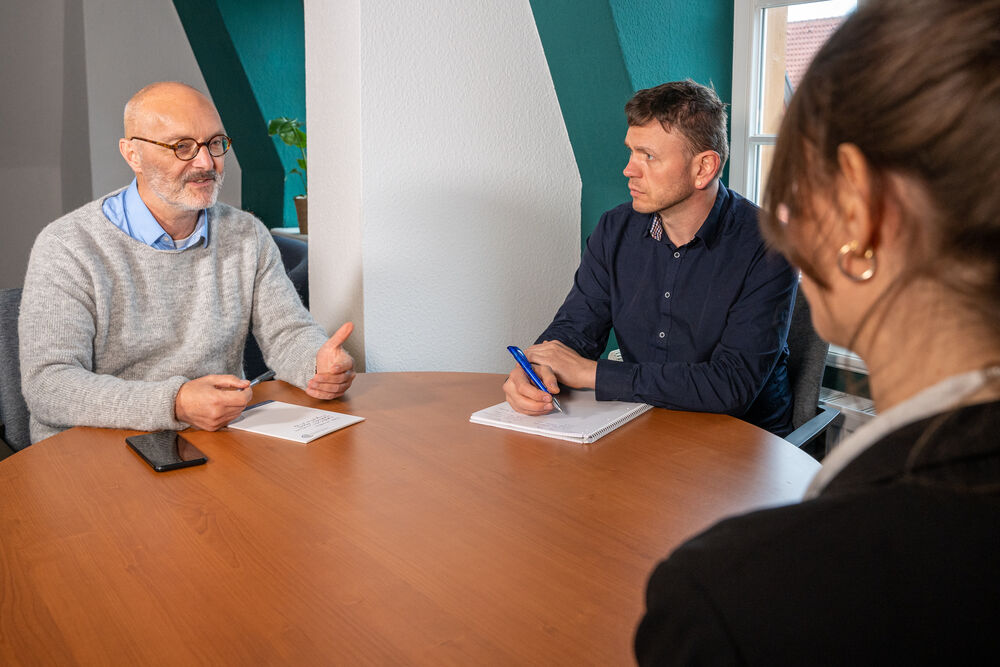 ---
Which target group do you belong to?
Are you in a challenging situation? At the University of Greifswald there are various contact and advice offices that you can turn to with your personal concerns. As a first orientation, you can access an overview of these offices by selecting your respective target group.
In addition, the offers of the Conflict Counselling and Mediation Service [de] are available to you. If you have general questions about these offers or about the selection of the relevant contact person, you are very welcome to contact the coordination office of the Complaints and Conflict Handling Office: katharina.rufferuni-greifswaldde
---
The text of the video for further reading
Conflicts? May be an issue for others.
And what may be a conflict for me may be just a small disagreement for you. The decisive factor is not whether we find ourselves in challenging situations, but how we deal with them. And at this point we are all called on: because we are all contact persons.
The University of Greifswald has set itself the goal of strengthening the constructive conflict handling culture and further expanding complaint and conflict handling. This was also one of the results of the 1st Rectorate Forum Campus on the topic of "appreciation culture". In the course of this, internal staff have been and are being trained in the area of conflict counselling and mediation, so that they can now support you together with the other counselling and support services.
On this page we inform you about this offer, the ongoing process and the accessibility of the individual services.
My name is Katharina Ruffer and I coordinate the project "Extended Complaint and Conflict Handling" here at the University. I am looking forward to accompanying this joint process. At the same time, I am also happy to be your contact person for protection against discrimination.
You are very welcome to come and see me or get in touch.
---
The "Extended Complaint and Conflict Handling" Project
What has happened so far?
Internal staff members have completed training in conflict counselling and mediation. The official certificate handover took place on 17 April 2023.
On 1 September 2022, the position of Coordinator of Complaint and Conflict Handling was filled, who is in constant exchange with all teams.
On 15 November 2022, the official start of the project was announced by a launch and information event in the conference room of the University's main building.
On 21 February 2023, a follow-up meeting was held with all those involved in complaint and conflict handling in order to network more closely and further promote cooperation.
On 28 March 2023, the CCH team agreed in a model workshop to focus on the design of this page in order to be able to communicate its services to the university members.
Since May 2023, the coordination office has been supported by two student assistants.
What happens next?
On 23 June 2023, the 24h lecture organised by the Students' Union (AStA) will draw attention to the current state of complaint and conflict handling within the student body.
We are looking forward to the ongoing process - feel free to visit us in the meantime!
---