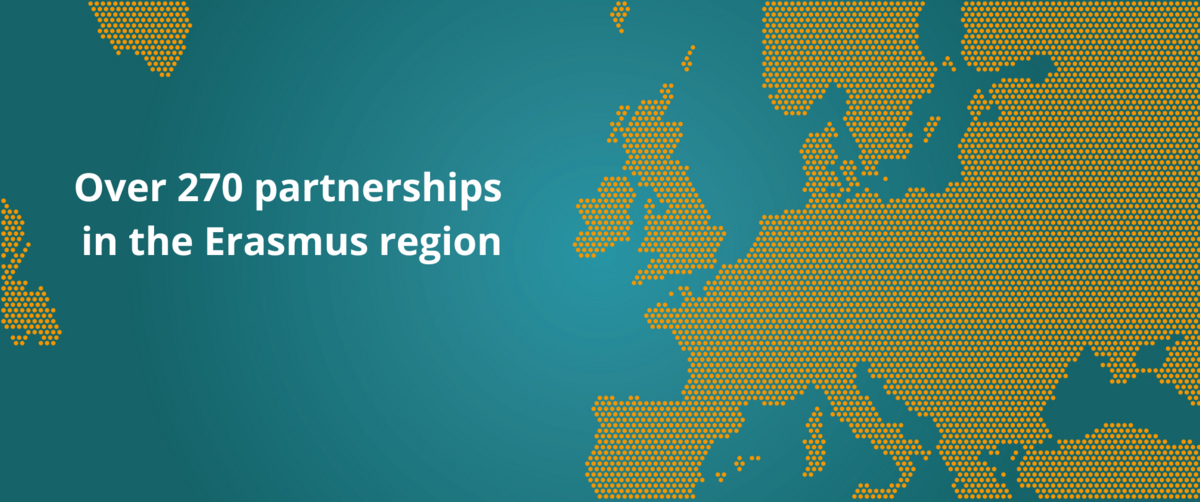 Erasmus Plus – Enriching lives, opening minds!
The Erasmus+ programme provides an excellent opportunity for students to spend time studying in another European country – an experience that is interesting and valuable on many different levels.
The Benefits of an Erasmus+ Placement
The programme offers a broad range of benefits, the most important being:
Multiple funding opportunities (12 months of funding within each cycle [BA/MA/PhD] or 24 months for integrated single-tier ('one-cycle') degree courses)
Exemption from tuition and study-related fees at the receiving institution
Monthly grant (approx. 490–600 EUR during an Erasmus+ study period)
Assistance with administrative procedures from the home (sending) and host (receiving) institutions
Recognition of academic credits earned at the host institution is set out in the student's Learning Agreement.
Possible additional financial support for students with accompanying children, students with disabilities (degree of disability from 20) or chronic illnesses, working students, first-time graduates (financial support is depending on the budget situation in the Erasmus+ programme).
Financial support for sustainable travel
Students' rights and obligations are set out in the Erasmus+ Student Charter
Erasmus+ Exchange Placements
You can only take up a study exchange place at an Erasmus+ partner institution that has a cooperative agreement with your department. The countries taking part in the Erasmus+ programme are the member states of the EU, plus Iceland, Liechtenstein, Norway, Turkey, and North Macedonia.
To search for exchange placements within the existing academic exchange agreements, take a look in our exchange programme database[de]. The database also contains first-hand reports from students and information on:
Application and language requirements
Lecture timetables
Accommodation and support services
Number of exchange places
Study in the United Kingdom
If you want to study at an Erasmus+ partner university you will need to apply for a visa depending on your time of stay:
Exchanges shorter than six months: Here will be no visa needed (only for European citizen). You will enter the UK by the Visitor route. Whilst being abroad you are not allowed to earn money.
Exchanges between six and eleven months: Here a short-term study visa will be needed. You will apply for it by yourself. Costs are round about 186 GBP plus the Immigration Healths Surcharge which will cost 470 GBP per year or rather for your whole stay. Whilst being abroad you are not allowed to earn money.
Funding
The monthly funding rate depends on the host (receiving) country and is a grant to cover additional costs incurred when undertaking a placement abroad. The countries are split into three categories.
Mobility Grants 2023/2024
| Group 1 (high cost of living) 600 EUR/30 days | Group 2 (medium cost of living) 540 EUR/30 days | Group 3 (low cost of living) 490 EUR/30 days |
| --- | --- | --- |
| Denmark, Finland, Iceland, Ireland, Liechtenstein, Luxembourg, Norway, Sweden, United Kingdom | Austria, Belgium, Cyprus, France, Greece, Italy, Malta, Netherlands, Portugal, Spain | Bulgaria, Croatia, Czech Republic, Estonia, Hungary, Latvia, Lithuania, North Macedonia, Poland, Romania, Serbia, Slovakia, Slovenia, Turkey |
Depending on the allocation of financial resources from the EU Commission and from DAAD, the International Office reserves the right to restrict the funding period. The maximum funding period is 4 months (one semester) or 8 months (2 semesters).
Subject Coordinators
Contact details for all of our Erasmus+ subject coordinators can be found here. They are responsible for signing your Learning Agreement and for any subject-related issues concerning your period of study abroad.