Rudolf Stundl (1897 – 1990)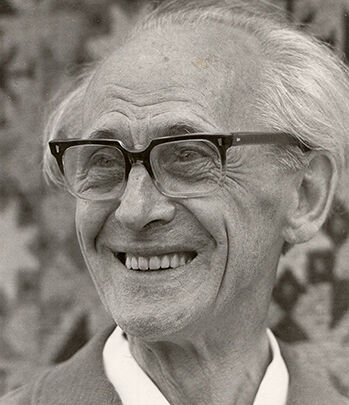 The Viennese carpet expert and tapestry maker, Rudolf Stundl, introduced carpet knotting as a secondary source of income for the impoverished Vorpommern fishermen during the economic depression. This first job creation scheme in Pomerania developed into a craft, which is distinct to this region.
Kustodie – University Collections
Dr. Thilo Habel
Head of the Kustodie
Domstraße 11, Entrance 4
17489 Greifswald
Tel.: +49 3834 420 3061
Fax: +49 3834 420 3062
kustodieuni-greifswaldde
Whilst searching for patterns for the tapestries, the Austrian was inspired by the harmonious untouchedness of Vorpommern's coastal landscape. Fish, seagulls, sea holly, the Swedish cog and anchors were established as typically northern ornaments and made the Freester Fischerteppiche unique. Since 1928, these "fishermen tapestries" have been hand-knotted in the villages of Freest, Lubmin and Spandowerhagen on Vorpommern's Baltic coast. Thanks to their convincing artistic quality and Rudolf Stundl's clever marketing, the "Persians from the Baltic Sea coast" managed to survive eras of different political circumstances. The production cooperative "Volkskunst an der Ostsee", founded in 1953, produced knotted tapestries and woven works up until 1992.
Due to Rudolf Stundl's long association to the University, he founded the Rudolf Stundl Foundation at the former Department of German Language and Literature, Art and Music at the University of Greifswald in 1983, to promote working with textiles. 23 unique Fischerteppiche are today part of the University of Greifswald's academic arts collection. Up until 1990 they were in Mr. and Mrs. Stundl's house in the Gützkower Landstraße 84. Many of these textile works were created in artistic cooperation between the carpet expert R. Stundl and his wife, the weaver, Frida Stundl-Pietschmann. The entire artistic inheritance of Rudolf Stundl has been looked after by the University of Greifswald's Kustodie (University Collections) since 1990.
Literature
Dahlenburg and Feltkamp: Freester Fischerteppiche der Ernst-Moritz-Arndt-Universität Greifswald. Greifswald 2008