How do I find a Suitable Doctoral Post?
This page provides information to help you find out how to choose a suitable doctoral thesis and adequate supervision, and how to apply for suitable positions that enable you to do your doctorate.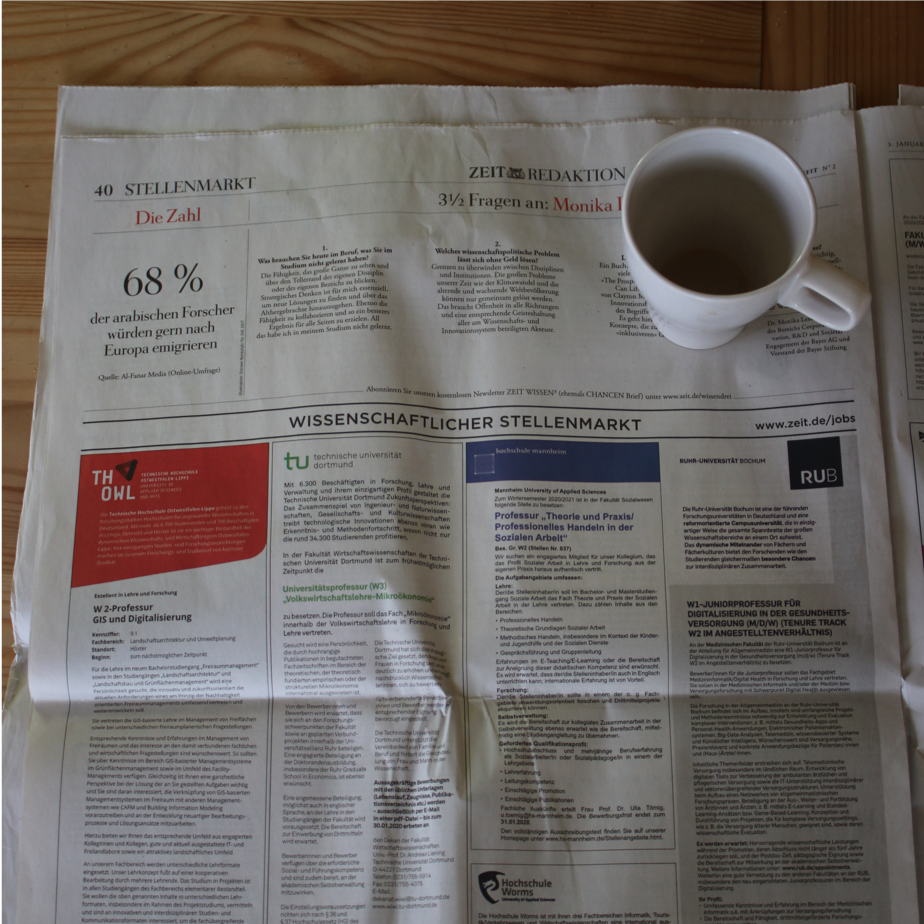 ---
---
How do I find a doctoral supervisor?
Prior to starting your doctoral studies, you have to find a professor who is willing to become your doctoral supervisor. Also make sure you feel confident you will receive good supervision.
Professors who you met during your studies, either at the university you studied at, at summer schools or during short-term periods of stay at other universities, could be the first persons you should consider. And don't forget your existing network!
It is also helpful to attend scientific conferences on your own area of specialisation. Here you can exchange information, establish contacts and possibly find your future doctoral supervisor.
The following search engines may be helpful when searching for a suitable institute belonging to a university or a research organisation:
GERiT – German Research Institutions
GERiT is an information portal with data on 25,000 research institutions in Germany. GERiT provides a simple search function for locations and subjects. It provides all of the required information for making an informed decision on an institution that provides research, studies or doctoral studies.

www.phdgermany.de
The German Academic Exchange Service's (DAAD) database lists doctoral opportunities provided by German higher education and research institutions. PhDGermany helps you find your doctoral post or doctoral supervisor and supports you during your application.

www.hochschulkompass.de [de]
This database offers current information about doctoral studies at higher education institutions in Germany. The search function makes it possible to carry out specific searches based on subject areas, admission requirements or type of doctoral studies.

Source: Research in Germany
---
How do I apply?
Usually you apply directly to the potential doctoral supervisor in order to convince him/her of your doctoral project. The following tips may help you with your application:
I will take enough time to find the right doctoral supervisor.

I show interest and know the research and publications of potential doctoral supervisors.

My cover letter states why I would like to write my doctoral thesis with the potential doctoral supervisor and how the suggested topic is well suited for him/her.

I explain why I have decided to do doctoral studies and why I am interested in the proposed topic.

I provide details of my own experience in the respective research field.

I write a short, but precise application.
Potential doctoral supervisors should be informed about which subject you studied at which university and how successful you were. It is also important to mention the topic of the dissertation, who supervised you and the area of expertise you would like to specialise in. Do not forget to mention contacts who are willing to serve as a reference (and possibly even write an assessment for you). If possible, you should have already produced a detailed exposé of your thesis.
It can make sense to introduce yourself to a potential doctoral supervisor during consultation hours or over the phone prior to asking for his/her support so that you can discuss specific points that are important to the supervisor.
Source: Research in Germany
---
How do I write a research exposé?
Are you required to submit an exposé for your planned doctoral thesis? Here are a few tips that may help you:
State of the art: I briefly describe the state of research on my suggested topic in accordance with current scientific literature.

Research question: I state the problem that I would like to solve. I possibly mention the hypotheses and make predictions.

Methodology: I state how I would like to solve the mentioned problem.

Distinction: I clearly describe what my research will look into and what not.

Relevance: I show why the answer to my research question is of societal and/or scientific interest. I develop a coherent and convincing argumentation on the purpose of my research.

Precision: I exactly formulate what the project is about and what my research intention is. I make sure I stick to my research problem and do not lose sight of the actual facts or get lost in details.

Diligence: I pay attention to spelling, grammar and consistent formatting.
Even if such an exposé is not an explicit requirement for the application, it is recommended you write one. This way potential doctoral supervisors are able to get an overview about your suggested topic and your current state of knowledge. Such an exposé will also help you to deal with the future topic and plan how you would like to work on it.
Source: Research in Germany
---
Responsible for these pages