Which Formal Requirements Do I Need to Pay Attention to?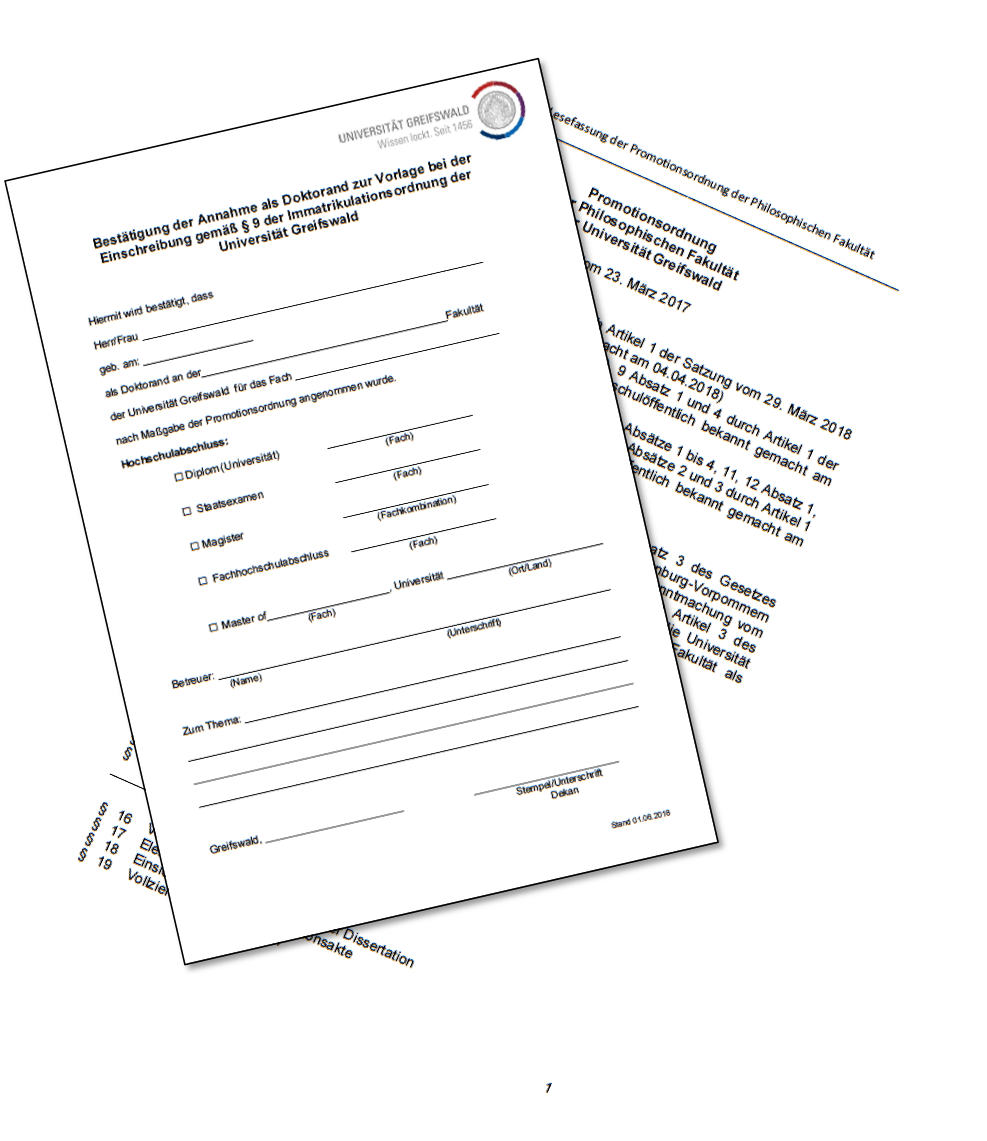 ---
Application requirements for international doctoral candidates
The admission requirements of the regulations for doctoral theses and postdoctoral theses must be met in order to complete a doctoral thesis or postdoctoral thesis at the University of Greifswald.
Doctoral candidates require a researcher from Greifswald belonging to the respective subject as a doctoral advisor.
A researcher from the University of Greifswald has to be available as a contact for postdoctoral and other research-related stays.
You are responsible for finding an academic supervisor at the University of Greifswald as Greifswald provides no other structured doctoral programme other than the Graduate College.
If s/he accepts your topic, the next application step takes place at the International Office, where your documents are checked for completeness and correctness.

Transcripts and Certificates
In order for things to go smoothly during your stay, you will have to present certificates to various institutions. Which transcript or certificate you have to present where varies.
The following basic rules apply, except for a few exceptions:
All documents are to be presented in German.
Domestic certificates must be legalised by the embassy prior to the application. Translations into German must be done by a certified translator and certified by a notary.
Certifications through a domestic notary usually must be legalised additionally. It is best to inquire which institution is entitled to certify which diploma or certificate at the German mission abroad.
You will require the following documents
School leaving certificate/ Higher Education Entrance Qualification*
University degree*
Doctoral degree*
other proof of qualifications*
if applicable, marriage certificate with legalisation*
birth certificate, including those of your accompanying family members*
*certified copies of eac
If your insurance policies are also valid in Germany, you will also require certified translations - particularly, if this applies to the important health care insurance, which is relevant for the residence permit.*
If you travel with your children, you will also require certified copies of their certificates. Preferably have this done in your home country, particularly in case of exotic languages.*
The following documents are also required:
Passport, valid for at least 6 months after the planned return to the home country
Invitation from the host institute, which shows how long the stay will last, how the financing has been arranged (scholarship confirmation, letter of intent for a work contract)
International driver's licence, if available
International vaccination records, if required
Biometric passport photos (can also be taken in Germany)
Binational doctoral studies (Cotutelle de thèse)
Binational doctoral studies entail the joint supervision of a doctoral thesis by a member of academic staff in Greifswald and a foreign researcher.
A binational doctoral procedure does not lead to two doctoral degrees, but to one title in accordance with the provisions of German law governing examinations. The institutions of higher education that are involved usually grant one joint degree certificate (see HRK-Cotutelle de these [de]).
Please contact the International Office in order to receive a draft agreement from the University of Greifswald for binational doctoral studies and the respective draft certificates in accordance with the HRK model. It will also help you to individually adapt the agreement. A set procedure for concluding supervisory agreements is currently being prepared.
---
Responsible for these pages