Perspectives After the Doctorate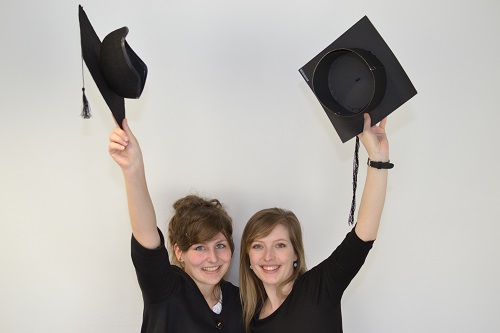 ---
You almost completed your doctorate - but what will happen afterwards?
It is never too late, but the earlier you ask yourself that question, the better you can plan and reflect on what you would like to do. A doctorate opens up manifold opportunities.
First of all - the good news: 94% of the graduates with a doctorate under the age of 45 are employed. Graduates with a doctorate are more satisfied in their profession because their skills and their competences are better suited for their profession than those of graduates without a doctorate. Employees with a doctorate earn on average more than colleagues without a doctorate, this income advantage is however reduced for women by up to 9%. The income advantages strongly depend on the field of expertise: Particularly legal scholars profit from a doctor title, while a doctorate in language and cultural studies is financially hardly worth it.
However: Only 19% of graduates with a doctorate can be employed long-term at an institution of higher education, most enter the business world or public service, as can be seen in the following diagram.
Only 17% of graduates with a doctorate are mainly employed in research and development. This is in strong contrast to the group of early career researchers, of which 47% stated they aspire to a career within academic research and teaching.

Source: Federal Report Early Career Researchers 2017 [de]
---
Alternative career plans are worth it
Maybe you are already considering a career outside of the academic world. A doctorate is no obstruction by any means, there is no truth in the rumour that overqualification will prevent you from getting a job. In individual cases this may be true, however, with your completed doctorate you are usually able to show that you are able to carry out independent scientific work including every aspect that is part of it: Project planning and management, reporting, working alone and in a team, flexibility and the ability to adapt quickly to new situations, etc.
However, in order to pursue a long-term scientific career at an institution of higher education, a doctorate is essential. At the same time, a doctorate is by no means a guarantee for an academic career. Even if many believe that an institution of higher education is the only desirable place of work, there is a high risk that permanent employment will not be offered. Being aware of this fact from an early stage onwards, reflecting on alternatives to academic careers and the early development of an alternative career plan prevents frustration and creates a certain sense of security and stability, while awaiting an answer to the next application or the next temporary position. This is not a plea against an academic career, which will be discussed in more detail below. However, it is a plea to think beyond the boundaries of personal ideals and to seriously consider potential career paths outside an institution of higher education. The more conscientiously and precisely a career plan is developed, the less one will consider one's own decision to end a career at an institution of higher education to be a failure. This is not necessary.
---
The non-academic career
Research does not only take place within academia. Next to multiple public research institutes such as the Fraunhofer, Helmholtz, Leibniz or Max Planck Societies, there are numerous companies with their own research departments that employ doctoral graduates. Other managerial positions in the economic sector are also more frequently held by doctoral graduates. Graduates with a doctorate work in science management, in the public services sector, in schools and in adult education, they work in political counselling or become self-employed by founding a company. In addition to better pay than the salaries scientists receive according to the tariff agreements, permanent employment and career promotion usually take place quicker in the free economy than in an academic career.
It is important to consider personal career goals and potential professional fields early on. This also entails a reflection on personal interests, desires and strengths, on competences that are necessary to reach personal career goals, to what extent they already exist and particularly, where additional work is required. It is often helpful to have someone accompany the reflection process as part of a professional Career and Competence Coaching [de] as provided by the Graduate Academy.
Once one has become aware of lacking competences, they need to be worked on. The Graduate Academy offers numerous professional development courses, free of charge, from which we would like to point out the area "Career Plus" [de] in particular, which focuses on non-academic careers. Specific courses for preparing academics for the labour market are also offered by i.b.s. human resources [de] in Jena, which can be funded in part by the Employment Agency. Databases for continuing professional development courses can be found on the Kursnet of the Employment Agency [de], the Further Education Information System of the Chamber of Industry and Commerce [de] and on weiterbildung-mv.de.
Good connections are not to be underestimated on the labour market. The importance of building an existing network is not to be underestimated. We would like to once again point out the offers provided by the Graduate Academy, including regular networking events and excursions to companies.
NOVA [de] is the career portal of the University of Greifswald and advertises job postings and internships.
If you are planning to found your own company or marketing an idea that could open the door to self-employment, we recommend you contact the Gründerbüro (start-up services) [de] or the Research Support Centre [de]. It holds the annual Unique Ideas Competition [de] or the NOVA Innovation Campus [de], which is organised together with the student business consultancy Capufaktur e.V. [de].
---
The academic career
Working on alternative career plans does not mean that you are straying from your initial plan of fulfilling a scientific career at an institution of higher education. On the contrary, dealing with alternative career options and the related reflection on personal interests, goals and competences, provide a better understanding of oneself and deliver insights into the required qualifications for achieving one's goals. Finding new paths can contribute significantly to coming closer to the destination you had set out to reach.
There are different keys for finding the right way through your career. Even if none of them represent a guarantee, each individual one is a requirement for reaching the aspired goal. Essentially these consist of the following:
Planning
A career can be planned to a certain extent, and it should therefore be done. This planning eliminates foreseeable insecurities on the future career path. The Career and Competence Coaching [de] offered by the Graduate Academy will support you!

Frustration tolerance
No access to archives, experiments that fail, declined third-party funding applications - all of this can be very frustrating but is part of everyday academic life. This also applies to researching completely new topics, gaining new data, the recent publication and the approved funding. It is all about keeping this joy going and not giving up after a set-back, and instead using it as a reason to become even better. Exchange with other academics can be very helpful and is provided, for example, in weekly Lunch Talks held by the Graduate Academy.

Acquisition of key competencies
Time and project management, leadership and team strategies, presenting oneself and one's own work, the equal balance between science and free time, compatibility of family and profession - these are all soft skills relevant in almost every area. The Graduate Academy offers respective courses. The courses provided by University Didactics [de] and the University's other continuing professional development courses are also to be mentioned at this point.

Network
It is often claimed that the filling of vacancies in the academic field has either already been arranged in advance or pure luck, a mere coincidence. It is important to be in the right place at the right time and to have the right contacts in order to leave as little as possible to chance. It is often claimed that building and maintaining a network with other scholars, knowing who to contact with which question, being available as a competent cooperation partner, and passing on and receiving information to and from interested parties all help to improve career chances. The Graduate Academy supports you by providing advice and relevant courses.
---
Career paths in Greifswald
The Alumni Portal provides the opportunity to stay in touch with fellow graduates and remain active in one of the numerous alumni groups.
KarriereWegeMentoring is a successful and effective tool in staff development, which strengthens the potentials of highly qualified female early career researchers and contributes to gender equality. It encourages these women to plan their own professional careers precisely and to pursue them. Furthermore, mentoring improves the chances of finding a job and later promotion, provides contacts that can help mentees to advance their careers and enables the establishment of a professional network.
The Research Support Centre (ZFF) [de] offers scientists requirement-based services in third-party-funded research and research transfer and also provides you with information about current Tenders for Third Party Funding.
---
Responsible for these pages